Connect is one of the largest distributors of spare parts in Europe. With 50 years of experience, its entrepreneurial spirit and its desire to empower the customer have led the group to shake up the market by developing new services. Andrew Sharp, Chief Executive Officer of Connect is passionate about integrating Connect into a sustainable, streamlined and modern future.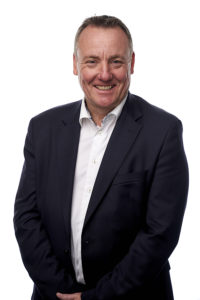 Can you tell us a brief history of Connect?
In 1969, our company was founded by Michael Depper, a Birmingham-based electrical engineer. Seeing the opportunity to sell spare parts to other engineers, Mr. Depper started a profitable local distributor. The company grew very quickly and expanded to new customers throughout the country. In 1994 we took the next step in technology with the first digital catalogue on CD-ROM in the UK. This was the predecessor of our current online platform. Today we are one of the largest distributors in Europe, but we have not forgotten our roots. Engineers are still a major part of our customer base, but we have expanded to many other types of customers as retailers, insurers and manufacturers.
How does Connect add value to the market?
We are now very proud to have over 50 years of business experience under our belt We have constantly evolved to meet and anticipate market needs. As a result, we have developed services that benefit both the repair shop and its customer. After bringing the appliance to a local repair shop, the consumer can place an order for a spare part, we will deliver it within 24 hours. This allows the station to access a large stock while reducing inventory management in their premises. In the end, everyone wins withlower costs, less logistics and a satisfied customer with a piece in 24 hours at home. We always focus on the most important aspect: helping the consumer.
Do you think that selling a spare part is different from a finished product?
The market for finished products is very different, the customer is looking for a good that he considers useful, efficient or pleasant. The customer will try to obtain a good that will make his life easier. The spare part is a purchase of distress, time and relevance are the decisive factors. We are the power behind the brand, our goal is to provide the best experience to protect the brand. Ultimately, it is about empowering the customer and helping them to solve their problem.
In addition, consumers are increasingly interested in regaining control over their purchased goods. The right to repair is increasingly in demand and this will certainly have an impact on the spare parts sector.
What are your main challenges or opportunities as one of the largest spare parts companies in Europe?
The new laws in France and Europe aim to increase repair activity throughout Europe. This is obviously a great opportunity for us, as a one-stop shop for consumers and engineers. However, as as people become more environmentally conscious and the environmental movement continues to push for a reduction in the consumption of consumer goods, we will see a change in the business model of repair We can all overcome any challenge together if we find common ground. Some manufacturers are reluctant to share their intellectual property with consumers or other stakeholders. This will create tensions in the market. In the end, we thrive on serving all brands. Finally, when the market develops again, we will certainly face competition from countries that are not subject to European regulation. . Cheap electronic cards could cause serious damage and put the customer at risk. Our role will evolve to include education and prevention to maintain safety, quality and service.
Connect now has a French subsidiary, what is your development plan in continental Europe?
Our model is to restore economies of scale to our customers. That is exactly what we are doing in the United Kingdom and that is what we want to become in France as well. We will be more than a parts distributor in Europe and hope to drive the market forward. Every market is unique and it is crucial to engage with the customer to provide the best service. We also have close links with Agoragroup, which is partly based in France. Together, we are building a very positive future in the UK and Europe.